How to perform an ear tip blood glucose measurement in your cat
Posted on 16 February 2021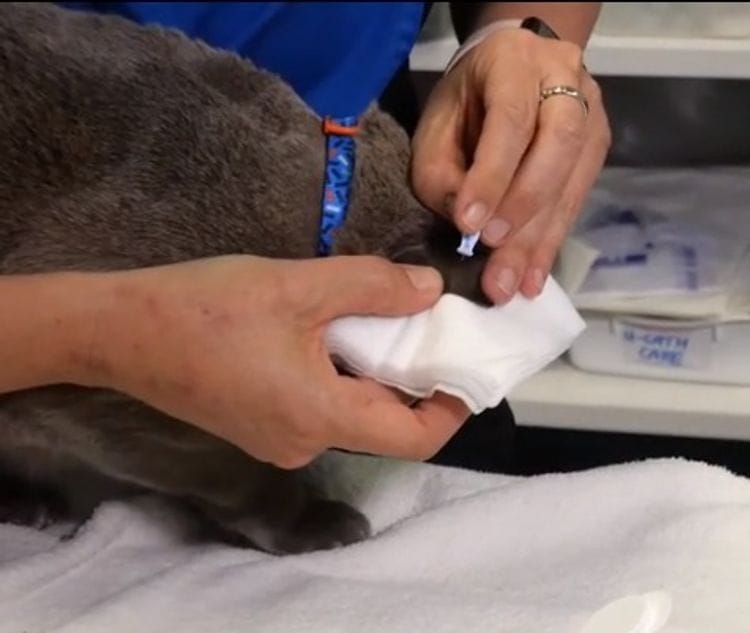 A Guide to Ear Tip Blood Glucose Measurement in Cats
In this video we demonstrate the technique of taking an ear tip blood glucose measurement from a cat, using our model, Professor Moriarty.
Materials Needed:
Swabs with warm water
Glucometer
Strips suitable for the glucometer (e.g., Alpha Track for cats)
Lancet
Rewards for your cat
Procedure:
Begin by using a warm swab on the cat's ear to bring blood vessels to the surface, making them more accessible.

Introduce the glucometer and insert the appropriate strip. Ensure the code matches the animal type (7 for cats, 5 for dogs).

Prepare a swab or tissue to assist in gripping the cat's ear. Use a lancet to make a quick, gentle puncture along the edge of the blood vessel.

If necessary, give a slight squeeze to encourage blood flow. Hold the glucometer adjacent to the blood droplet for the reading.

Note the blood glucose result (e.g., 3.2). If the reading is unusual, consult your vet.

Swiftly place a swab on the puncture site until you're sure the cat is comfortable.

Reward your cat generously for their cooperation.
Important Notes:
Purchase appropriate strips online or from pet chemist warehouses.
The glucometer model shown here is the Alpha Track, designed for cats and dogs.
Consult your vet for guidance on using different lancets.
For further information, please browse our website or reach out to us at the hospital. We're here to assist you and ensure your cat's well-being.