Cat Specialist Services Team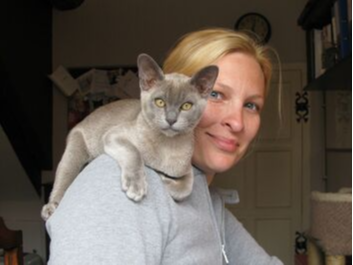 BVSc MANZCVS (Internal Medicine) FANZCVS (Feline Medicine)
Specialist in Feline Internal Medicine
After graduating from the University of Queensland in 2000, Dr. Korman worked in small animal and feline only practices in both Australia and the United Kingdom.
She was awarded a Feline Advisory Bureau (now International Cat Care) Senior Clinical Training Scholarship at the University of Bristol and completed research in the areas of feline infectious and haematological disease. She became a Fellow of the Australian New Zealand College of Veterinary Scientists and a registered specialist in Feline Medicine in 2018.
She is a member of the Feline Expert Panel, a reviewer for the Journal of Feline Medicine and Surgery, contributing author to the British Small Animal Veterinary Association of Feline Practice, a member of the Australian Heartworm Advisory Panel and a tutor for the Feline Medicine Distance Education Course (University of Sydney). She lectures extensively throughout the United Kingdom, Europe and Asia and was given a Cynthia Award from International Cat Care for her dedication to cats.
Dr. Korman works at Veterinary Specialist Services in Brisbane where she heads the feline medicine service and cat friendly clinic. Her passion stems from the bond between animals and their owners and the strength of every cat's personality!
She shares her home with two children, Professor Moriarty (a Burmese with a mind for evil deeds), Maus (a partially sighted British shorthair) and Whinny, a rescue Chihuahua who is a glorified cat. Any free time is divided between kids, cats and the dog!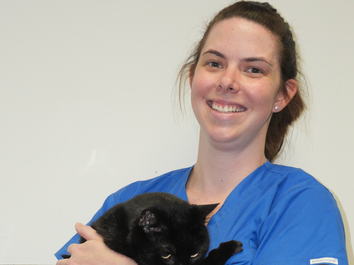 Feline Nurse
I've spent my entire life being around cats. Funnily enough, I started off being a bit scared of them.
It was when I started my career as a veterinary technician, I realised there were only a few of us who could truly call ourselves 'cat people'. Don't get me wrong, I love dogs, but I feel I actually understand cats better. This has driven me to focus my nursing career on improving the veterinary experience for cats; and it has become a great passion and goal of mine, to provide the best standard of care to our feline patients, and to try my best to ensure their 'voices' are heard.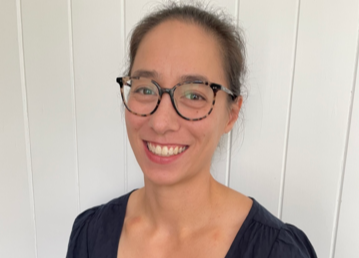 Specialist - Feline Medicine
Alison graduated from the University of Queensland in 2006 and started her clinical practice with an emergency medicine internship. She briefly worked in dermatology practice before finding her calling in feline practice. She has worked exclusively with cats since 2009. Alison became a Fellow of the Australian and New Zealand College of Veterinary Scientists and a registered specialist in feline medicine in 2021. She enjoys looking after geriatric patients with all their co-morbities, and has a particular interest in feline dermatology and endocrine disorders. Alison shares her home with three children, four cats, a whippet, several chickens and a husband. Outside of work she plays violin in a community orchestra, enjoys going to the gym, as well as gardening and spending time outdoors.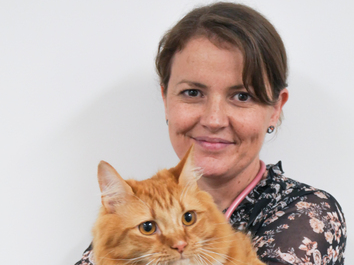 Feline Medicine Resident
My love of cats stems from my childhood. We have always had cats as pets and at one stage having had 9 rescue cats. During my many years as a general practice vet I always gravitated towards feline patients. I have always been intrigued by their uniqueness and the complexity of their diseases and treatments. Having pursued further professional development in Feline Medicine this fuelled my desire to practice Feline medicine only. When the opportunity to join Cat Specialist Services presented itself I was delighted to join Rachel and the team. I am looking forward to learning even more about cats and practicing excellence in Feline Medicine.